Camp 2017
ALL IN – Living a Life of Worship
Romans 12:1-2, The Message
Kids Camp – June 3-7 (Grades 3-6)
Camp Director – Pam Chambers, Event Director – Sarah Harvey, Speaker – Josh Bunce
Sr. High Camp – June 8-12 (Grades 9-12)
Primary Director – Gabe Hancock, Assistant Director – Royce Bryan, Speaker – Keas Keasler
Jr. High Camp – June 12-16 (Grades 6-8)
Primary Director – Gabe Hancock, Assistant Director – Royce Bryan, Speaker – Jason Porterfield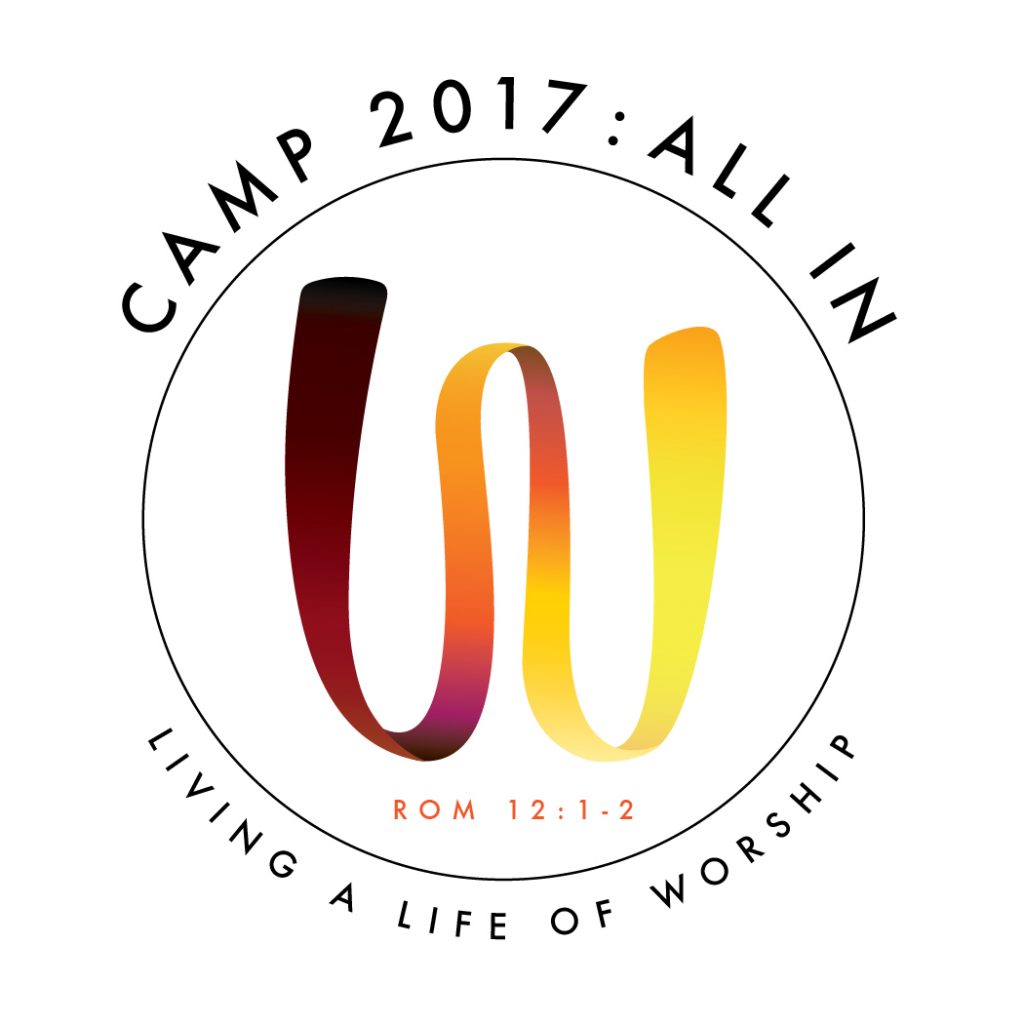 Register Now!
Letter from Kids Camp Directors to Campers:
We are so excited to have you at Kids Camp 2017! Our theme this year is "All In – Living a Life of Worship". We are going to find out we can worship God through art, music, laughter, games, and pretty much everything we do. We have tons of fun activities planned. We have a cool service project for you to do this year and will discover that we can worship God through work and service to others. Here are a few things extra that we would like for you to bring to help you enjoy the activities on the schedule:
At least one pair of long pants
At least one long sleeve shirt
A pair of work gloves
Bug spray
Clothes your mom doesn't mind you getting dirty in
We want you to know we are already praying for you and we can't wait to see you at camp! See you on Saturday, June 3rd.
Warmly,
Pam and Sarah
Letter from Sr High and Jr High Directors to Campers:
On behalf of the directors and program staff, I am thrilled that you have decided to come to Camp "ALL IN: Living a Life of Worship." We have been working diligently to make this year's camp feel fresh, fun and full of worship! Worship is a big passion of mine, and nothing excites me more than leading others to a place of experiencing the presence of God and placing their hearts and minds toward Him. Our desire is that you will feel this in every piece of the camp's schedule and that you will come away from camp asking yourself, "How can I go 'ALL IN' in worshipping God in every aspect of my life?" Know that we have been praying for YOU for months, and that God is going to meet you in a special way at camp. Are you ready? Are you "ALL IN?!"
Gabe Hancock, Primary Director
P.S. Below are some extra helpful tidbits as you prepare for camp. #ALLin
Money: Campers are welcome to bring extra money for food/pop at Canteen every afternoon. There will also be optional food ($5-$10) to purchase on the final night of camp.
Worship Instruments: With our them being about worship, anyone wishing to bring a guitar or other musical instrument is welcome (but not required). There will be segments throughout the camp week where campers will have freedom to use them (including an "Open Mic" Night).
*Bring instruments at your own risk – CQH or EFC-MAYM is not responsible for lost or broken instruments.
**Instruments will be confiscated if they become an issue.
Clothing: There will be a couple water-type games and night games, so include clothes that can get wet and clothes that may be stealthy.
Camp Song Setlist: YouTube Playlist: https://www.youtube.com/playlist?list=PLa–bMif3fABKjmrC-kvZcjL276QFWsBO
This is Living – Young & Free

Better Than Life – Phil Wickham

The Lion and The Lamb – Leeland

The Cause of Christ – Kari Jobe

Starmaker (High Above the Earth) – Phil Wickham

What A Beautiful Name It Is – Hillsong

O Come to the Altar – Elevation Worship

Thank You Jesus – Hillsong

Holy Spirit – Bryan & Katie Torwalt

Reign In Us – Starfield

Oceans – Hillsong

From the Inside Out – Hillsong

The Stand – Hillsong
"Advertising Camp 2017"
Print a poster, bulletin insert flyers or postcards or contact the Ministry Center 316-267-0391 to request some be printed and mailed to you.
11 x 17" Poster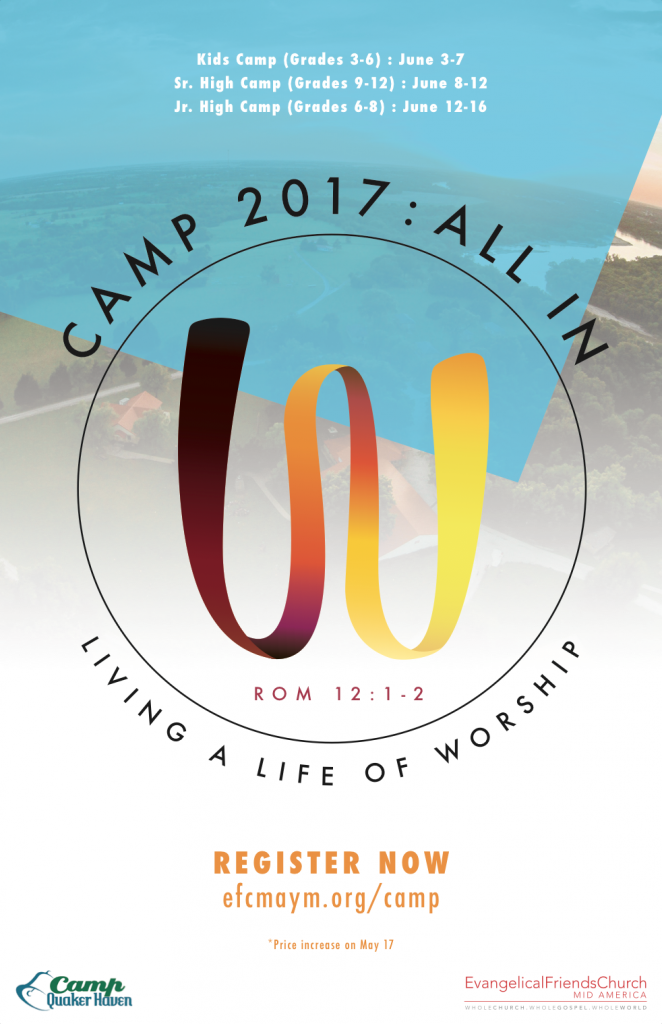 5.5 x 8.5" Flyers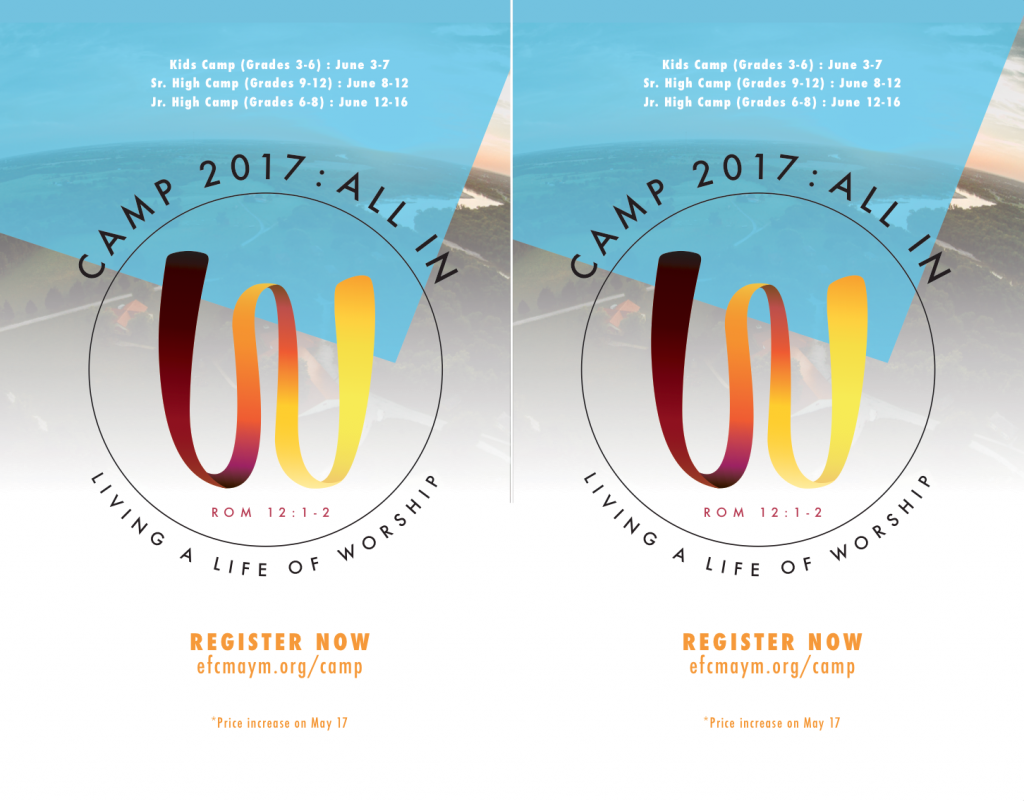 5.5 x 4.25" Postcards (front and back)

All grades designate grade completed.
Registration for each camp is from 2:00 – 3:30 on the start date. Each camp ends at 10:00 a.m.
Counselors, we need you! The charge for counselors is $140 for each camp.
Register online and pay $75 deposit by May 17 to avoid a late fee of $35/camper!
Note: Deadlines are to EFC-MAYM office. If you are turning in payments to your church youth leader, they will probably require earlier deadlines.
Deadlines:
May 17: Registrations and deposits due online (mailed in deposits must be postmarked to EFC-MAYM no later than May 17). A late fee of $35 will be added to each registration/deposit received May 17 or after.
The $75 deposit is non-refundable after May 17. The $75 deposit or any registration payments are non-transferable to other campers.
Church Leaders:
Please be sure your church is recruiting/sending a minimum of approximately one counselor per every four or five campers your church is sending to camp. Counselor recruits should apply online ASAP or before April 1. Contact jesse@efcmaym.org if you would like to 'adopt' a counselor from another location (example: college students) by paying their registration costs.
If you are collecting payments for your group, please mail deposits to the EFC-MAYM office (one week grace period for church checks) and bring final payment for your group to the camp registration table. If you are the primary person responsible for registering your church group and do not have a special 'primary youth leader' log-in password, please contact jesse@efcmaym.org. The password allows you to see details of all persons who have registered from your church, along with other features.
Intern Information:
Campers – Earn Free Registration for Camp! Download this CQH Intern Application and mail to Camp Quaker Haven, 8438 312th Road, Arkansas City, KS 67005. Contact the camp at 620-442-9690 for more details.
Our camps success depends on good counselors! If you would like to apply to be a counselor, simply fill out the online Counselor Application! Counselor registration cost is $140. Churches are encouraged to offset counselor costs.
We accept counselors/assistant counselors/Counselors in Training(CIT) who are at least 16 years old and at least 3 years older than the campers at any particular camp (Example: a person who has completed their third year in high school can counsel at Jr. High Camp). Counselors who apply by April 1 online will be contacted with 'acceptance' and other instructions by or before May 1 via email.
Counselors will receive basic orientation during the normal camp program schedule.
Primary Counselor = Assigned 10-12 campers in a cabin. Responsible for directing the campers through the program and giving oversight to them throughout camp. The Primary Counselor may also be asked to teach an initiative activity during the day. The Primary Counselor will also be in charge of nightly cabin devotions/reflections and debriefing campers through spiritual decisions they make.
Assistant Counselor = (age 18 or over/at least 1 year prior experience). Assists the Primary Counselor in all cabin responsibilities as stated above. Must be willing to maintain an attitude of learning and servanthood to the Primary Counselor and Cabin group each day.
Counselor in Training (CIT) = Age 16-18 and/or first year counseling.