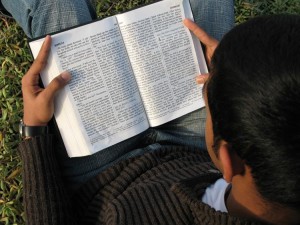 Jr. High Bible Quiz is a fabulous program that will help your Jr. High youth get into the Word of God. Each season begins with study in the Fall and continues with quiz tournaments throughout the following Spring. Generally, there are 5 quizzes in a season and the material varies with each year. The Gospels of Matthew, Luke, and John are divided into 2 sections each and one section is done per year, rotating to a new section each year. A quiz team can consist of 1 or 2 students up to many students comprising multiple teams for a church. The cost of quiz is currently $70.00 per team per quiz. Each quizzer receives a ribbon at the awards ceremony following each tournament and top quizzers and teams are recognized at the end of the season. If your church has never had a quiz team, or perhaps it's been awhile since your church participated, we invite you to check out this program that helps our students "hide God's Word in their hearts". Please feel free to attend any of the quizzes this year and see what Bible Quiz is all about. If you have questions, please contact Linda and Gene Stratton at quiz@efcmaym.org.
2018 Schedule:


January 13 – Northridge Friends, Wichita, KS: Matthew 15-17
February 10 –Chandler Friends, Chandler, OK: Matthew 15-20
March 3– Argonia Friends, Argonia, KS: Matthew 15-23
April 7 – Rose Hill Friends, Rose Hill, KS : Matthew 15-26
April 28 – FINALS: Friendswood Friends, Friendswood, TX: Matthew 15-28
Each year one of the top Jr. High Bible Quizzers is awarded the Frazier award. To see the qualifications for this award, click the following: Frazier Award Qualifications.
– Linda and Gene Stratton, EFC-MAYM Jr. High Bible Quiz Directors
316-945-4810 (Evenings)
316-706-0278 (Linda-Cell)